Strona oficjalna
Trzy mecze... Trzy różne oblicza...
Szczegóły

Opublikowano: niedziela, 30, kwiecień 2017 13:46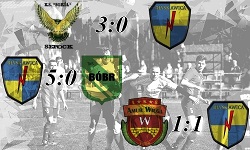 W ostatnich tygodniach zespół z Warszawskiej Pragi rozegrał trzy ligowe spotkania w Warszawskiej Lidze okręgowej. Mimo iż odstęp między meczami trwał zaledwie tydzień, to w każdym ze spotkań podopieczni Andrzeja Klimkiewicza i Krzysztofa Kosycarza zaprezentowali się zupełnie inaczej. Krótkie opisy każdego ze spotkań w rozwinięciu.
SOKOŁ SEROCK 3 : 0 BŁYSKAWICA

W drugim tygodniu kwietnia prażanie udali się do Serocka by rywalizować z miejscowym Sokołem. Już przed meczem wiadomo było że zawodników Błyskawicy czeka bardzo ciężkie zadanie, bowiem Sokół w rundzie rewanżowej spisywał się wyśmienicie. Dla nas niestety potwierdzili swoja wysoką dyspozycję wygrywając w pełni zasłużenie. Nasz zespół nie potrafił się skutecznie przeciwstawić twardo grającej drużynie Gospodarzy. Wynik meczu był już rozstrzygnięty po pierwszy 45 minutach, w których Błyskawica delikatnie mówiąc spisała się bardzo słabo. W drugiej połowie wyglądało to nieco lepiej, jednak tego dnia nie zasługiwaliśmy nawet na jeden punkt.
BŁYSKAWICA 5:0 BÓBR TŁUSZCZ
W wielką sobotę przyszło nam rywalizować z zawodnikami z Tłuszcza. Po zeszłorocznej porażce w Tłuszczu ( 3:1 ), zawodnicy z warszawskiej Pragi byli żądni rewanżu, który wypadł bardzo okazale, a nasza drużyna gładko wygrała to spotkanie 5:0. Od pierwszej do ostatniej minuty zwycięstwo Błyskawicy nie było zagrożone. Nasza drużna kontrolowała przebieg spotkania i do przerwy prowadziła 2:0 po bramkach Szymona Gołębiewskiego i Bartłomiej Gołasiewicza. Po zmianie stron Gospodarze dołożyli kolejne trzy trafienia, po jednym zanotowała wyżej wymieniona dwójka, a ostatniego, debiutanckiego gola w barwach Błyskawicy zdobył Wojtek Oleksik.
AMUR WILGA 1:1 BŁYSKAWICA
Do dalekiej Wilgi jechaliśmy podbudowani wysokim domowym zwycięstwem, liczyliśmy na kolejny komplet punktów. Jednak w kolejnym wyjazdowym meczu nie potrafimy wygrać. Mecz z miejscowym Amurem był typowym meczem walki, boisko w wildze nie sprzyjało kombinacyjnej grze. W pierwszej połowie zakończonej bezbramkowym remisem obie drużyny stworzyły sobie po kilka sytuacji do zdobycia gola. Z naszej strony najlepszą zmarnował Szymon Gołębiewski, który w sytuacji sam na sam zbyt lekkim strzałem próbował przelobować bramkarza gospodarzy. Amur najlepszą okazje zmarnował tuż przed przerwa, gdy jeden z ich zawodników z 2 metrów przeniósł piłkę nad pustą bramką. W drugiej połowie przyjezdni wyszli na prowadzenie, po dograniu od Krystiana Szularza, oko w oko z bramkarzem stanął Bartek Gołasiewicz i płaskim strzałem wyprowadził nasz zespół na prowadzenie. Wydawało się kolejna bramka dla gości jest tylko kwestią czasu, jednak raz po raz marnowaliśmy sytuacje, których wydawało się że nie da się zmarnować, a jednak. Na 3 minuty przed końcem zemścił się brak skuteczności i Amur doprowadził do wyrównania. Po zdobytej bramce gospodarze poszli za ciosem, i w następnej akcji mogli wygrać to spotkanie, ale strzał pomocnika Amura trafił jedynie w słupek. Po meczu został ogromny niedosyt bo spokojnie można było to spotkanie wygrać różnicą kilku bramek, jednak trzeba oddać to że w końcówce mogliśmy nawet przegrać.